Suncorp has been one of Australia's leading insurance companies for over 100 years. It is a top 20 ASX listed company, with nearly $100 billion in assets, so it would seem like a great place to turn for pet insurance.
In addition to Suncorp Insurance, the company also operates the AAMI, GIO, Bingle, Apia, and other brands. There's a good chance that your car, home or life insurance is backed by Suncorp.
So while it would seem like a natural fit for there to be a Suncorp pet insurance, that product does not exist today. Nor does Suncorp offer pet insurance under any of these other brand names.
If you're shopping for pet insurance, please check out our comparison of these 25 other brands and we'll be sure to let you know if Suncorp does announce a pet insurance product.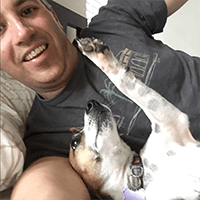 I'm Mitch, and I've spent hundreds of hours researching pet insurance, meeting with pet insurance executives, and getting the opinions of vets and pet owners. I wanted to put out information on every pet insurance brand (that I know of), to provide a true overview of the many options available to pet owners.
All the information in this article was correct at the time of writing and may change over time. If you're considering this product, be sure to review the Product Disclosure Statement so that you understand any terms, conditions and exclusions.