Love watching the dashing Dr. Chris Brown as he's helped everything from crustaceans to canaries on Bondi Vet? Well, if you're a super-fan of the show, now you can enroll in Bondi Vet Pet Insurance.
Bondi Vet is no longer offering Pet Insurance. However, the information on this page has been kept for the benefit of existing customers.
If you would like to compare pet insurance on Top 10 Pet Insurance, click here.
However, Bondi Vet Pet Insurance has nothing to do with Dr. Brown, who left the show last year to focus on his other tv endeavors (and occasional ongoing work as a veterinarian). In fact, it has now been nearly a year since the eigth season of Bondi Vet concluded, with no new host or premiere date announced (though Queensland vet Dr. Alex Hynes is rumored to be the new featured vet.)
Bondi Vet Pet Insurance is actually being offered by the producers of the show, and should it return, they'll have a strong platform with which to promote it. Don't be scared away by their lack of pet insurance experience, though, as plans are underwritten by Hollard and administered by PetSure, the two stalwarts the Australian pet insurance industry.
What we like
• Two simple plans, with a choice of either 70% or 80% reimbursement rate and a large annual benefit limited – $10,000 on the accident-only plan or $20,000 on the accident and illness plan.
• There is $0 excess on all Bondi Vet Pet Insurance policies.
A few things to consider
• Despite that these plans have just debuted, no discounts are currently available, and the multi-pet discount is 5%. (Check our pet insurance discount and promo code list here)
• You can elect to add up to $3,000 per year of dental benefits, but the premium increase on our example was a whopping $375 per year. Dental benefits also carry a six month waiting period before kicking in. Note that you can only access benefits if you've had an annual dental check-up from a vet, too.
• As this is a brand new product, so no customer reviews are available.
Make sure you read the product disclosure statement before purchasing Bondi Vet Pet Insurance.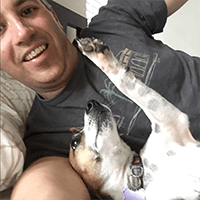 I'm Mitch, and I've spent hundreds of hours researching pet insurance, meeting with pet insurance executives, and getting the opinions of vets and pet owners. I wanted to put out information on every pet insurance brand (that I know of), to provide a true overview of the many options available to pet owners.
All the information in this article was correct at the time of writing and may change over time. If you're considering this product, be sure to review the Product Disclosure Statement so that you understand any terms, conditions and exclusions.