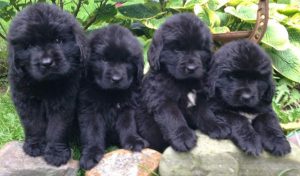 Ever wondered what the most expensive breed of dog to insure in Australia is?
We wondered as well!
We decided to head on over to the Petplan website on 26th April 2017 and check out their prices to find out. Petplan is the oldest pet insurer in Australia so they probably know a thing or two about providing accurate prices for each breed. As mentioned on our Peplan Pet Insurance Review they are one of the more expensive brands in terms of premium costs. For this comparison between breeds we have a level playing field as we have simply chosen the same level of cover for each breed.
Specifically we chose a one year Ultimate Life Cover policy for a 5 year old male dog living in Victoria.
The top 10 most expensive dog breeds to insure in Australia are:
| Rank | Breed | Annual Premium |
| --- | --- | --- |
| 1 | Newfoundland | $3,043.83 |
| 2 | Shar-Pei | $3,043.83 |
| 3 | Great Dane | $2,424.61 |
| 4 | St Bernard | $2,424.61 |
| 5 | Greyhound | $2,350.61 |
| 6 | Weimaraner | $2,340.50 |
| 7 | American Bulldog | $2,323.82 |
| 8 | Australian Bulldog | $2,323.82 |
| 9 | British Bulldog | $2,323.82 |
| 10 | Doberman Pinscher | $2,169.35 |
See the full list here.
As you can see these breeds are generally large dogs. Does size matter when insuring a dog? Yes it does. Have a look at our cheapest dogs to insure list and you will see that they are all small breeds.
We asked Jen Costello – a former veterinary technician and doting owner of two Newfoundlands, which she blogs about at MyBrownNewfies.com – for some advice on how to deal with the high costs of caring for large, costly breeds.
She recommends that prospective pet parents, "educate themselves on health issues that effect the breed, purchase from a responsible breeder, and schedule regular health checks with their veterinarian.  Speak to ambassadors of the breed and ask questions about how to spot a health concern, and get pet insurance as soon as possible."
"I think many new Newfoundland owners underestimate the cost of owning a giant breed until it's too late. "
Summary
Article Name
What is the most expensive breed of dog to insure in Australia?
Description
We have researched the major pet insurance companies to find out what the most expensive dog breeds to insure are.
Author
Publisher Name
Publisher Logo