A well-known name in the pet insurance game, Pet Secure keeps it simple with its offering. Providing just one level of pet cover for dogs and cats, PetSecure pet insurance offers an annual benefit limit of $12,000, with no excess, and a choice of 75% or 85% back on eligible vet bills.
PetSecure is no longer offering Pet Insurance. However, the information on this page has been kept for the benefit of existing customers.
If you would like to compare pet insurance on Top 10 Pet Insurance, click here.
Who is PetSecure?
Established more than 15 years ago, PetSecure is one of Australia's most experienced pet insurance providers. Specialising in pet insurance, this is a brand many Australians turn to for pet insurance from a trusted, well-known provider.
As such, it is underwritten by The Hollard Insurance Company and administered by PetSure, two long-standing names in the pet insurance market.
PetSecure Pet Cover
No longer offering Accidental Injury Cover to new customers, PetSecure now focuses on a more simplified offering, covering dogs and cats for both accidental injuries and illnesses.
Accidental Injury and Illness Cover
Covers specified accidental injuries and illnesses
Choice of 75% or 85% back on eligible vet bills
Annual claim limit of $12,000
No excess
Start cover from 8 weeks to 8 years
Optional Wellness Care add-on
What We Love
Happy Customers: According to online review site ProductReview.com.au, PetSecure customers seem a pretty happy bunch – with many of them choosing to stay with the provider over a long period of time. Currently rated 4.2 out of 5 stars, PetSecure pet insurance is praised for its reliable plans, its excellent customer service, and its prompt payment on claims.
Handy Discounts: As a new customer, you may be able to benefit from great savings when you sign up for PetSecure pet insurance – so be sure to check out our promo codes and discounts page before you apply. Aside from that, you may also enjoy savings over the life of the policy, with a 10% discount offered to multi-pet households, service dogs, rescue pets, and Australian Pension Cardholders. Note, only one of these discounts will be applied per policy, which means no double-up discounts if, say you happen to have multiple pets that also happen to be rescues.
Simplified Options: While choice can be a good thing, having too many options can make it harder to make the right decision. PetSecure keeps things simple with just one cover level on offer, although there is the option to customise via reimbursement rate, and to add routine care cover if desired.
75% or 85% Back: With PetSecure pet insurance, you decide whether you want to claim 75% or 85% back on eligible vet bills. Opting for 75% should result in reduced premiums, while also helping to stretch the annual claim limit through the year. Opting for 85% provides more back at claim time, making vet bills more affordable.
No Excess: There is no excess to pay on PetSecure pet insurance – which can be both an advantage and a disadvantage. On one hand, being able to vary the excess amount on a policy allows you to choose between paying more in premiums or more in excess at claim time. On the other hand, having no excess simplifies the pet insurance offering, while reducing the amount you need to pay out on claims.
Super Fast Claims: PetSecure states most of its claims are paid within 48 hours of receipt of all claim documents. This is a seriously fast turnaround within an industry where it typically takes a week – and sometimes longer – to see a payout on claims. In terms of the ease of claiming, PetSecure offers an easy claims process via its claims portal, with the option of getting pre-approval on treatment should you need it.
Lifetime Cover: As long as your pet is aged between 8 weeks and 8 years when you apply for cover, you can enjoy cover for life provided you continue to renew your policy with no breaks in cover or change in cover level.
Chronic Conditions Cover: It's worth noting that while some providers cap claims on treatment of chronic conditions, PetSecure will continue paying until you reach your annual benefit limit – even for chronic conditions, such as cancer, diabetes or arthritis.
Extras: Like many providers, PetSecure offers handy extras in the form of emergency boarding and overseas pet cover. Emergency boarding can help cover the costs of kennelling your pet if you are hospitalised, although its sub-limit of $500 is lower than you can find elsewhere. As for overseas cover, this allows your pet to visit the vet when travelling with you in New Zealand and Norfolk Island.
Giving Back: PetSecure is a proud sponsor of many local and community-based rescue organisations around Australia. So when you choose PetSecure, you are also helping other pets that may not have had such a great start to life.
What To Consider
Higher Cost: PetSecure premiums ranked above average compared to other premiums in our Australian pet insurance comparison. With that being said, it's still a good idea to get your own quote based on your particular situation, as prices vary considerably based on a number of factors, such as your location and the age and breed of your pet.
Low Annual Benefit: PetSecure limits overall annual claims to $12,000, where other providers max out at $25,000 and even $30,000. If you think your claims will exceed $12,000 within a year, you may need to look elsewhere for cover.
Sub-Limits: As for sub-limits, these run to $300 for consultations, $2,600 for cruciate ligament treatment, and $500 for paralysis tick treatment. Note, the sub-limit on paralysis tick treatment is low within the market.
No Accident Only Cover: As we mentioned earlier, PetSecure no longer offers its accident-only plan. If all you want is cover for accidents – and you don't want to pay more for cover on illnesses – again, you may be better off looking at other options.
No GapOnly: GapOnly is a feature that allows pet owners access to real time claims, so they only pay the gap when visiting the vet. While PetSecure offers a super fast payout on claims, you will still have to pay upfront at the vet, to then wait for the payout to come later.
Routine Care: PetSecure offers a routine care option, called Wellness Care, which can be added on at an additional cost. With annual claims capped at $145 – and caps on individual claim categories in place – just make sure the extra amount you are paying for this add-on is worth it for the value you get in return.
Exclusions: These include (but are not limited to) dental care (for example dental procedures, diseases, fractures and tooth removal), pregnancy, elective procedures, foods/diets, grooming and behavioural problems. Pre-existing conditions are also excluded, but may be claimable after 18 months of no symptoms.
Longer Waiting Periods: There is no waiting period on accidental injury claims with PetSecure pet insurance, however, there is a 30-day waiting period on specified illnesses. With some plans offering waiting periods as low as 14 days and 21 days, this waiting period could certainly be shorter. Additionally, there is a 6-month waiting period on cruciate ligament treatment, which is standard in the industry.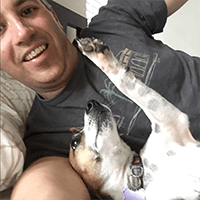 I'm Mitch, and I've spent hundreds of hours researching pet insurance, meeting with pet insurance executives, and getting the opinions of vets and pet owners. I wanted to put out information on every pet insurance brand (that I know of), to provide a true overview of the many options available to pet owners.
All the information in this article was correct at the time of writing and may change over time. If you're considering this product, be sure to review the Product Disclosure Statement so that you understand any terms, conditions and exclusions.