Covering dogs and cats, HCF pet insurance offers up to 80% back on eligible vet bills, up to an annual claim limit of $12,000. HCF members can benefit from a discount of up to 15%, with multi-pet households also enjoying a 10% discount.
Who is HCF?
Officially known as the Hospitals Contribution Fund of Australia, HCF is a not-for-profit health insurer that prides itself on operating in a different way to most health funds, in that it is not driven by profit, but by improving and safeguarding the health of its members.
Formed in 1932, HCF has since grown to become one of the country's largest combined registered private health fund and life insurance organisations, now offering cover on health insurance, income, illness and injury cover, travel insurance and pet insurance.
Although HCF pet insurance is marketed under the HCF name, it's worth noting that policies are issued by the Hollard Insurance Company and administered by PetSure, both of which are large and established names in the Australian pet insurance industry.
HCF Pet Cover
No longer offering its basic Essentials plan to new customers, HCF now provides just two levels of cover, both of which offer very similar levels of coverage.
Pet Premium
Covers specified accidents and illnesses
Annual benefit limit of $12,000
Claim up to 80% back on eligible vet bills
Offered to pets aged 8 weeks to 8 years
Pet Premium Plus
Covers specified accidents and illnesses
Annual benefit limit of $12,145
Claim up to 80% back on eligible vet bills
Option to add Routine Care cover (claim up to $145 per year)
Offered to pets aged 8 weeks to 8 years
What We Love
Award Winner: While it's no guarantee that awards equal great cover, finding out whether a potential pet insurer has won any significant awards can be a good starting place in your search for cover. HCF, for example, took home the 2021 Mozo Experts Choice Award for Exceptional Quality Pet Insurance.
Low Cost: HCF pet insurance is competitively priced, ranking as one of the plans with the lowest premiums in our survey of Australian pet insurance products. Be sure to check out the comparison table before you apply, and don't forget to check for any discounts you may be eligible for as a new customer, using our handy promo codes and coupons page.
HCF Member Discount: As an HCF member, you could save even more on your premiums, as you benefit from a 10% discount provided to all HCF members. If you happen to be an HCF Ruby or Diamond member, you will benefit from a 15% discount. Unfortunately, existing Manchester Unity Pet Insurance policies are not eligible for discounts.
Multi-Pet Discount: Got more than one pet you want to insure? HCF pet insurance offers a nice, round 10% multi-pet discount, which is applied to the second and any subsequent policies you apply for.
Simple Cover Options: Having ousted its basic coverage option, HCF pet insurance now offers only two levels of cover, both of which are pretty much the same, apart from a few sub-limit differences and Premium Plus's Routine Care inclusion. While some pet owners may want more choice, opting for a simple option can work better for others.
Online Account Management: Making it easy to claim, manage your policy, update your details and more, HCF pet insurance offers customers easy access to all their member essentials through its online portal.
Get Pre-Approval: If you're unsure whether HCF will cover the treatment your pet needs, it's worth noting that you can actually get pre-approval on procedures before you visit the vet. This can help give you some peace of mind before the dreaded vet bill is handed to you.
Lifelong Cover: Like most pet insurance plans, HCF offers lifelong cover to pets, no matter how old they get. As long as you apply for cover before your pet's ninth birthday, you can enjoy cover for life, provided you renew your policy each year without any break, lapse or change in the level of your policy.
Extras: Any extras worth mentioning? HCF pet insurance offers both overseas cover for trips to New Zealand and Norfolk Island, as well as emergency boarding should you be hospitalised.
What To Consider
Mixed Reviews: On online review site ProductReview.com.au, HCF pet insurance is currently rated an average of 2.1 out of 5 stars. With some very mixed reviews provided, current and past policyholders complain of bad customer service and large price hikes in the second and third years, while others praise the insurer for its fast claims and customer communication.
No Essentials: If you want basic cover for your pet, you will need to look elsewhere. As we mentioned earlier, HCF no longer offers its Essentials plan to new customers, and simply provides mid-level cover on its Premium and Premium Plus plans.
Low Annual Limit: Unlike some policies that offer annual claim limits up to $20,000 and sometimes $25,000, HCF caps its annual claims at $12,000. If you think you will need more cover for your pet, you may need to look at other options.
Per-Condition Excess: With HCF pet insurance, you have four excess amounts to choose from: $0, $50, $100 or $200. While it is handy you can tailor your cover to pay less in premiums with a higher excess and vice versa, it worth pointing out that this is a per-condition excess. That means if you choose cover with a $200 excess, claim time could get expensive if the insurer decides you are dealing with a number of conditions within your one claim.
Dental Add-On: With both Premium and Premium Plus, HCF pet insurance allows pet owners to add dental cover to their policy. Cover is capped at a sub-limit of $2,000 per year (which is included within your overall annual claim limit), and there is a massive two year waiting period on treatment. That means you would be paying for the additional cost of the add-on for two years before you could make a claim.
Sub-Limits: Talking of sub-limits, HCF – like almost every other insurer – imposes sub-limits on claims for certain conditions. Some worth noting are sub-limits on tick paralysis ($1,000 for Premium and $1,200 for Premium Plus), emergency boarding ($1,000), consultations ($300), and cruciate ligament treatment ($2,600).
No GapOnly: GapOnly is a handy feature that allows you access to real time claims, so you only pay the gap when you visit the vet. Unfortunately, HCF pet insurance does not provide access to GapOnly as yet.
Waiting Periods: When you apply for HCF pet insurance, you will have to wait 30 days to make a claim on specified illnesses, and 6 months on cruciate ligament treatment. There is no waiting period for specified accidental injuries.
Low Value Routine Care: Before you choose Premium Plus for its Routine Care cover inclusion, consider how much more you are paying for that plan compared to the Premium plan, while bearing in mind claims for the add-on are capped at $145 per year.
Exclusions: Similar to almost every pet cover out there, HCF excludes claims on certain treatments. These include dental procedures, fractured teeth, routine or preventative treatments, select elective treatments and procedures, and breeding and obstetrics. Pre-existing conditions are also excluded, but may be reviewed if there has been no sign of the condition in the previous 18 months.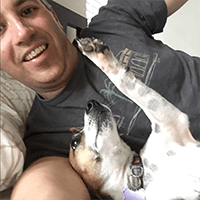 I'm Mitch, and I've spent hundreds of hours researching pet insurance, meeting with pet insurance executives, and getting the opinions of vets and pet owners. I wanted to put out information on every pet insurance brand (that I know of), to provide a true overview of the many options available to pet owners.
All the information in this article was correct at the time of writing and may change over time. If you're considering this product, be sure to review the Product Disclosure Statement so that you understand any terms, conditions and exclusions.