Petplan has been a world leader in pet insurance for more than 35 years, and is the longest operating pet insurance plan in Australia. Petplan pet insurance policies are underwritten by HDI Global Specialty SE -Australia, a joint venture of Hannover Re and HDI Global.  (Petplan policies were underwritten by MS Amlin Syndicate until Feb 2020 and most existing policies will transition to HDI Global Specialty SE -Australia backing upon renewal).
What we like about Pet Plan Pet Insurance:
Petplan pet insurance offers a number of unique and valuable benefits, including $1 million to $5 million in third party liability coverage (depending upon the policy) for injuries or property damage caused by your dog. All plans include coverage for advertising and a reward if your pet is missing. A holiday cancellation benefit will reimburse you for up to $2,000 of costs if you need to change your travel plans because your dog or cat is seriously ill, injured or missing.
There is a low $150 fixed excess amount for dogs ($125 for cats), meaning 100% of your approved claims beyond that amount will be reimbursed in full. However, you should note that an additional age excess will kick in once your pet reaches 8 years of age (20%) and 10 years of age (35%) that significantly reduces your benefits.  (For certain dog breeds considered to be higher risk, the larger excess amounts kick in at just 4 and 7 years of age.)
The waiting period is just 21 days, compared to 30 days for most other insurance plans. This means that your coverage for illnesses starts sooner on new policies.
A few things to consider:
Petplan's Website is a bit dated and clunky, requiring more information than other plans to obtain a quote. The presentation of options is cluttered and a bit confusing, so be sure to carefully review the range of options presented to you, and read the product disclosure statement prior to purchasing, so that you fully understand the terms and restrictions on your benefits.
The bargain-priced 12 Months Essential plan is no bargain. Low premiums come at the cost of no long-term coverage for chronic or lingering illnesses or injuries. You are only entitled to benefits for the first 12 months after diagnosis, leaving you without coverage for any treatment costs that extend longer, which is common with arthritis, diabetes, skin conditions, and many other chronic ailments.
Petplan was subject to an ASIC action in June 2016, for misleading advertising. The company had been advertising 100% rebates on vet bills, while failing to adequately disclose that this amount excludes the excess amount, which can grow to 35% of the claim for pets over 10 years of age. Petplan agreed to refund $231,000 to 740 customers and has updated its advertising to more clearly callout the excess amount.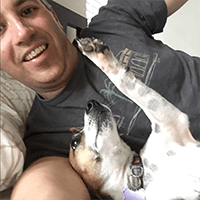 I'm Mitch, and I've spent hundreds of hours researching pet insurance, meeting with pet insurance executives, and getting the opinions of vets and pet owners. I wanted to put out information on every pet insurance brand (that I know of), to provide a true overview of the many options available to pet owners.
All the information in this article was correct at the time of writing and may change over time. If you're considering this product, be sure to review the Product Disclosure Statement so that you understand any terms, conditions and exclusions.