RACQ, the widely known motoring club that provides insurance, finance and other services for Queenslanders, now offers pet health insurance for dogs and cats. RACQ pet insurance is a traditional accident and illness plan, and the organization also offers more limited pet health insurance as an optional part of home and/or contents insurance. RACQ issues its own pet insurance, presenting the lone alternative to numerous backed by Hollard/PetSure or PetPlan.
What we like
RACQ's stand-alone illness and injury pet insurance plan offers a solid set of benefits, including coverage for 80% of eligible expenses with choice of a $0, $100 or $200 excess amount.
There is a routine care option with the stand-alone plan and it has an annual cap of $100.
The stand-alone policy has discounts so if you are a member of roadside assistance, have 3 or more policies with RACQ, insure more than 1 pet, or buy online you will receive a discount. Also RACQ is currently offering 3 months free pet insurance for all eligible pets adopted from AWLQ and pets treated at an AWLQ clinic.
The pet insurance option with your home and /or contents insurance covers accidental injury or illness. You can claim up to $750 for veterinary care for each separate injury or illness and for each claim there is an excess of $50. There is no routine care coverage with this option and even if you purchase it online you will not receive a discount.
Regardless of the policy type, if you take out pet insurance with RACQ you will be able to access the members' discounts and benefit program.
A few things to consider
RACQ is currently only available to residents of Queensland and Western Australia.
It comes with a $12,000 annual benefit cap (the maximum amount you can claim each year) which is probably more than enough for most, but some policies go as high as $25,000.
The details for each type of pet insurance are in two different Product Disclosure Statements, one for the stand-alone pet insurance and the other is detailed in various sections of the Household Insurance Policy. Be sure to read them thoroughly so you can understand the coverage and the restrictions that apply.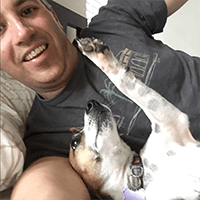 I'm Mitch, and I've spent hundreds of hours researching pet insurance, meeting with pet insurance executives, and getting the opinions of vets and pet owners. I wanted to put out information on every pet insurance brand (that I know of), to provide a true overview of the many options available to pet owners.
All the information in this article was correct at the time of writing and may change over time. If you're considering this product, be sure to review the Product Disclosure Statement so that you understand any terms, conditions and exclusions.