Real Pet Insurance offers pet owners three levels of pet insurance to choose from, each with an annual claim limit of $12,000 and no excess to pay. Reimbursement on eligible vet bills range from up to 60% to 80% depending on the level of cover chosen.
Who is Real Insurance?
Established in 2005 to act as an alternative to big brand insurance, Real Insurance was created with the core purpose of protecting the quality of people's lives.
Holding true to that promise, Real Insurance prides itself on providing products that offer real savings and value, backed by staff who provide real service, and a corporate culture that inspires real trust.
Today, Real Insurance offers a number of insurance products, covering everything from life insurance and funeral insurance to car insurance, home insurance, health insurance and – of course – pet insurance.
As such, Real Insurance is a multi-award winning insurance company and takes pride in providing the best service and value for customers.
Real Insurance Pet Cover
Real Pet Insurance covers dogs and cats for accidental injuries and illnesses. There are three levels of cover to choose from.
Classic Accident & Illness Cover
Annual claim limit of $12,000
Per-condition sub-limit of $2,000
Claim up to 60% back on eligible vet bills
Start from 8 weeks up to 16 years
Standard Accident & Illness Cover
Annual claim limit of $12,000
Claim up to 75% back on eligible vet bills
Start from 8 weeks up to 9 years
Premium Accident & Illness Cover
Annual claim limit of $12,000
Claim up to 80% back on eligible vet bills
Start from 8 weeks up to 9 years
Routine Care cover offered at an additional cost
What We Love
Well Regarded: When you apply for pet insurance, you want to know you're choosing cover you can rely on. Aside from checking the PDS for important info regarding what is and isn't covered on your policy of choice, it can be a good idea to see how well the insurer rates within the industry. It's nice to see Real Insurance has won a number of awards over the years, with some of the most recent including Feefo's Trusted Service Award for 2023, 2022 and 2021, and the Reader's Digest 2022 Gold Quality Service Award in the Pet Insurance category, as voted by Australian consumers.
Well Reviewed: Online reviews provide another way to check up on an insurer before you apply. On ProductReview.com.au, Real Pet Insurance has a current rating of 4 out of 5 stars, with plenty of long term customers having good things to say about the insurer. Commonly highlighted attributes include the insurer's supportive and friendly customer service, its good communication and clear info provided on cover options, and its ability to quickly settle claims.
Low Cost: Having compared a number of Australian pet insurance options, our pet insurance comparison table reveals Real Pet Insurance premiums remain on the lower end of the scale, helping to provide pet owners access to pet cover at a lower cost. Bear in mind, however, that the price you pay on your premiums will depend on factors such as where you live, as well as your pet's age and breed.
First Year Loyalty Refund: Real Pet Insurance offers a 10% refund on the premiums you pay through the first year, provided you stay with the insurer for 12 months. This Real Reward will be provided to you within 30 days of your first anniversary, regardless of whether you have made a claim. While it is good to see money off in the first year, many other insurers provide intro offers rather than a loyalty offer, which you can obviously only take advantage of by staying with the provider over a longer period.
No Excess: Making claim time somewhat easier on the wallet, Real Pet Insurance charges no excess, working well for those who need to make a number of smaller claims.
Choice of Reimbursement Rate: Coverage provided across all three levels of cover offered by Real Pet Insurance is similar in substance. What really sets each level apart are their reimbursement rates. Depending on the level of cover you choose, you can benefit from 60%, 75% or 80% back on eligible vet bills (with higher reimbursement rates obviously coming with a higher premium).
Good Coverage: Unlike some pet insurance providers, Real Insurance covers both accidental injuries and illnesses across all three of its cover levels. Many plans designed for older pets aged nine and above often only cover injuries and not illnesses, so this is particularly worth noting on the Classic plan, which has a starting age up to 16 years.
Lifetime Cover: With Real Pet Insurance, your pet can enjoy cover for life, provided you start cover prior to the plan's cut-off age and there are no breaks in cover.
Included Features: Want more? Real Pet Insurance offers a nice range of extras across its three cover levels, including essential euthanasia, overseas cover for travel to New Zealand and Norfolk Island, and emergency boarding should you be hospitalised. You also have the option to pay your premiums fortnightly, monthly or yearly at no extra cost.
What To Consider
Low Value Routine Cover: As an extra offered at an additional cost on Premium plans, Real Pet Insurance's Routine Care cover is capped at $80 per year, and doesn't provide great value.
Low Annual Claim Limit: Unlike some plans that provide annual claim limits that reach $25,000 and even $30,000, Real Pet Insurance's annual claim limit tops out at $12,000 across all three of its cover levels. If you think your claims may extend beyond that limit, you may want to look elsewhere for pet insurance.
Per-Condition Limit on Classic Cover: Aside from that overall annual claim limit, Real Pet Insurance's Classic plan comes with a per-condition limit of $2,000. As a result, any claim you make will be capped at $2,000, regardless of whether your vet bill is $2,000 or $20,000.
Sub-Limits: Outside of its Classic Plan, Real Pet Insurance puts in place various sub-limits that apply to certain types of claims. Some worth noting include vet consultations (at $300 per year), emergency boarding (at $500 on Classic and $1,000 on Standard and Premium), and cruciate ligament treatment (at $2,600 on Standard and Premium). It's worth highlighting that unlike many providers, Real Pet Insurance does not put a sub-limit on paralysis tick treatment.
Waiting Periods: In terms of waiting periods, Real Pet Insurance has no waiting period for specified accidental injuries, but it does have a 30-day waiting period for illnesses (including tick paralysis), and a 6-month waiting period for cruciate ligament treatment (may be waived on application).
No GapOnly: As far as we could see, Real Pet Insurance does not offer real time claims using the GapOnly feature. That means you will always have to pay the full amount upfront at the vet, to then make a claim for reimbursement.
No Multi-Pet Discount: There was also no mention of a multi-pet discount, which can come in handy for households looking to insure multiple pets.
No Other Discounts: While Real Insurance offers a number of other insurance products, it doesn't seem to offer a discount to its customers who have policies elsewhere with the provider.
Exclusions: Real Pet Insurance lists a number of exclusions, the most notable of which include claims relating to breeding and obstetrics, dental problems or oral disease, grooming or bathing, and pre-existing conditions. It's worth pointing out that temporary pre-existing conditions may be claimable after a period of 18 months with no symptoms.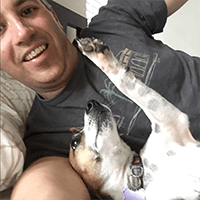 I'm Mitch, and I've spent hundreds of hours researching pet insurance, meeting with pet insurance executives, and getting the opinions of vets and pet owners. I wanted to put out information on every pet insurance brand (that I know of), to provide a true overview of the many options available to pet owners.
All the information in this article was correct at the time of writing and may change over time. If you're considering this product, be sure to review the Product Disclosure Statement so that you understand any terms, conditions and exclusions.