Setting itself apart by offering comprehensive cover with no upper age limit, Petmed pet insurance also provides some excellent customisable options, allowing pet owners to choose their excess, reimbursement rate and annual benefit limit.
Who is Petmed?
Specialising in pet insurance, Petmed has been operating here in Australia since 2000, and as such, it claims to be the second longest running pet insurance provider in the country.
Like the vast majority of Australian pet insurance providers, Petmed is issued by Hollard and administered by PetSure, the two biggest names in Australian pet insurance.
Petmed Pet Cover

Petmed provides pet insurance to dogs and cats, with two levels of cover to choose from. While both levels of cover are similar, what sets them apart is their policy starting age and range of customisable options.
Young Pets
Covers specified accidental injuries and illness
Start from 8 weeks to 8 years
Choose from 65% or 80% back on eligible vet bills
Choose annual benefit limit of $5,000, $12,000 or $18,000
Choose excess of $0 or $99
Senior Pets
Covers specified accidental injuries and illness
Start from 9 years
65% back on eligible vet bills
Choose annual benefit limit of $5,000, $10,000 or $15,000
Choose excess of $99 or $199
What We Love
Great for Older Pets: When pets reach past eight or nine years old, it gets harder to find pet insurance plans that offer comprehensive cover. Petmed is one of the few providers in the industry that offers comprehensive cover to senior pets, with no upper age limit placed on starting age. That means, instead of relying solely on accidental injury cover, you can opt for a plan that covers injuries and illnesses, no matter the age of your pet.
Customisable Cover: Another standout on Petmed pet insurance is its range of customisable options, which essentially allow you to tailor your plan to suit your needs. Depending on whether you want the Young Pets or Senior Pets plan, you can choose from a range of options with regards to what excess you will pay, what reimbursement rate you will receive, and how much you will be able to claim each year overall. Some sub-limits are also customisable.
Free Health Report: If you want to gain a better understanding of the health of your pet, you may be interested in downloading Petmed's free health report. Based on your dog or cat's specific breed, this health report provides important info such as details of any potential hereditary diseases, cancer risks, and examples of the most common illnesses – so you can prepare for the future and understand what may be in store.
Easy Claims: Petmed offers easy claims via its Pet Portal. All you need to do is upload a copy of both the itemised invoice and consultation notes from your vet visit, and Petmed will take it from there. If you don't want to use the Pet Portal, you can also claim via post.
Fast Payout: Petmed says that more than 90% of its claims are paid in five days. So, while you will have to pay the upfront costs associated with visiting the vet, you shouldn't be out of pocket too long, as long as your claim is approved.
Lifelong Cover: While Petmed pet insurance may have no upper age limit on a pet's starting age, it's also nice to see that the provider offers lifelong cover. To be eligible for cover for life, simply make sure you continue to renew your policy with no breaks in cover.
What To Consider
Mixed Reviews: Checking out what current and past customers have to say about Petmed pet insurance, online review site ProductReview.com.au shows some very mixed reviews. While some customers rave about the provider, others highlight issues with communication and increased premiums. Petmed pet insurance currently has a rating of 2.6 out of 5 stars on ProductReview.com.au, which definitely shows some room for improvement.
Missing Extras: Compared to what's on offer elsewhere within the pet insurance industry, Petmed seems to be missing some common extras that customers may find valuable. First up, Petmed pet insurance doesn't offer GapOnly, which allows pet owners access to real time claims at the vet, so they only need to pay the gap. We also couldn't find any mention of overseas cover in New Zealand and Norfolk Island, or a multi-pet discount.
Low Value Routine Cover: Petmed pet insurance provides access to routine care cover at a cost of $5 per month. So, while this extra costs $60 per year, it only provides up to $80 in value to cover claims related to specific routine care costs at the vet.
Cost: Our pet insurance premium comparison reveals that Petmed premiums sit somewhere in the middle of the pack, not offering the cheapest or the most expensive option. With that being said, the amount you pay on your premiums will be determined by factors such as your location, and your pet's breed and age – so be sure to get a quote to find out exactly how much you would pay on your pet insurance with Petmed.
Sub-Limits: Sub-limits to be aware of with Petmed pet insurance include a $2,600 limit on cruciate ligament treatment, $300 on vet consultations, $500 or $1,000 on tick paralysis treatment, and $500 or $1,000 on emergency boarding.
Exclusions: Some of the more common exclusions to be noted include pregnancy, elective procedures, foods/diet, grooming, behavioural problems, and pre-existing conditions that showed clinical signs before taking out the insurance.
Waiting Periods: Waiting periods are also worth paying attention to. When you apply for Petmed pet insurance, your policy will commence at 11:59pm that day. You can make a claim for a specified accidental injury as soon as your policy is effective. However, there is a 30-day waiting period on illnesses, and a 6-month waiting period on cruciate ligament treatment.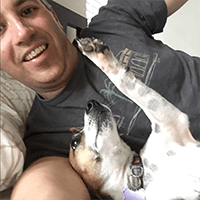 I'm Mitch, and I've spent hundreds of hours researching pet insurance, meeting with pet insurance executives, and getting the opinions of vets and pet owners. I wanted to put out information on every pet insurance brand (that I know of), to provide a true overview of the many options available to pet owners.
All the information in this article was correct at the time of writing and may change over time. If you're considering this product, be sure to review the Product Disclosure Statement so that you understand any terms, conditions and exclusions.