Pet insurance from Woolworths? Yep, the same name you rely on to keep your kitchen cupboards stocked also offers pet insurance.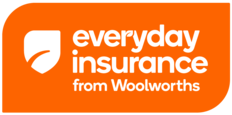 Everyday Comprehensive Plus
Maximum Annual Limit: $30,000
Reimbursement Rate: 80%
You'll get 80% of your eligible vet bills covered up to a a $30,000 yearly limit. 30 days waiting period. Plus you'll also get 10% off your Woolies supermarket shop once a month.
Get Quote
In a Nutshell
Everyday pet insurance is issued by The Hollard Insurance Company, one of the oldest and largest providers of pet insurance in Australia. As such, it has plenty to offer pet owners looking for solid cover for their pet, with price and extras working as important selling points.
What We Love
Why choose Everyday pet insurance? Here are some of the reasons why this pet insurance product could work for you.
Great range of cover: Everyday offers a wide range of cover on its pet insurance policies, extending from Basic cover all the way through to Comprehensive Plus. With a range of cover options available, this creates a more flexible way for you to choose the right level of cover for your pet – and your budget.
Claim limits: Depending on the level of cover required, you can choose from claim limits that range from $5,000 (on Basic cover) up to $30,000 per year (on Comprehensive Plus cover).
Choice of excess: On Everyday pet insurance policies, you can choose your excess, ranging from $0 to $500, depending on the policy level you opt for. This essentially lets you decide whether you want to pay less on your premiums, or less when it comes time to claim.
Solid set of benefits: While limits, waiting periods and exclusions may apply, you will be able to claim up to 80% back on your vet bills with your Everyday pet insurance policy. This can make visiting the vet easier on the wallet, especially when larger bills pop up. When attending participating vet practices, you can also take advantage of the GapOnly feature to claim your benefit on the spot, and only pay the gap on eligible claims.
Competitive pricing: As you might expect from a big brand supermarket that knows a thing or two about competition, Woolworths takes its pet insurance pricing seriously. As such, it promises to Price Beat any comparable quote. It's worth noting that while Everyday came seventh in our pet insurance price survey, it exceeded the cost of comparable policies by less than one dollar per month.
Attractive extras: When you choose Everyday pet insurance, you can take advantage of a handful of appealing extras. These include lifetime cover for your pet, plus unlimited 24/7 online access to VetAssist, which allows you to video chat or chat online with a licensed Australian vet any time, anywhere.
Woolies extras: As an Everyday Rewards member, you will receive a 10% discount on your Everyday pet insurance premiums for the first year. Not only that, you can enjoy 10% off your Woolies supermarket shop once a month.
Terms and conditions apply. Make sure to check the PDS for details.
What to Consider
If you apply for Everyday pet insurance, it's worth bearing in mind that there is a 30 day waiting period for illnesses, and a 6 month waiting period for cruciate ligament conditions. You'll only be covered for new conditions that develop after the waiting period. There is no waiting period for specified accidental injuries.
Checking out online Everyday pet insurance reviews, you may find some complaints regarding denied claims that policyholders believed should have been covered. We note that the company responded online to many of these reviews within hours or days, offering to try to help resolve the issue.
With this in mind, it's worth stating again that it's important to read the terms carefully to ensure the cover you apply for is the right cover for your needs.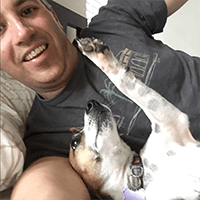 I'm Mitch, and I've spent hundreds of hours researching pet insurance, meeting with pet insurance executives, and getting the opinions of vets and pet owners. I wanted to put out information on every pet insurance brand (that I know of), to provide a true overview of the many options available to pet owners.
All the information in this article was correct at the time of writing and may change over time. If you're considering this product, be sure to review the Product Disclosure Statement so that you understand any terms, conditions and exclusions.