Petsecure pet insurance is one of the most established brands in Australia. Founded in 2001, it has provided coverage for thousands of dogs and cats across Australia. Like many others, Petsecure is underwritten by The Hollard Insurance Company and administered by PetSure, two long-standing names in the pet insurance market.
What we like
PetSecure offers a solid set of pet insurance benefits which includes Accident cover up to $8,000 per year or Accident and Illness cover up to $12,000 per year. There is also a routine care option with Accident and Illness cover.
With Petsecure you can choose between a 75% or 85% coverage on vet bills giving you the choice of a coverage/premium combination to suit your finances. There is no excess on Petsecure policies.
When you sign up, discounts are offered to people adopting from an animal rescue organization, people with a pension card and people with assistance dogs. There is also a discount for insuring more than one pet.
A few things to consider
Petsecure premiums ranked above average compared to other Australian pet insurance premiums, but shop around to make sure that this is true for your particular situation, as prices may vary considerably based on several factors, including the age and breed of your dog or cat.
Prompt processing of claims and good customer service were mentioned by many on productreview.com.au but a nearly an equal number reviews were unhappy with the claims processing, the customer service and increasing premiums.
The routine care option, Wellness Care, has a maximum of $145 per year.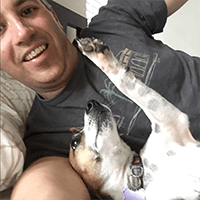 I'm Mitch, and I've spent hundreds of hours researching pet insurance, meeting with pet insurance executives, and getting the opinions of vets and pet owners. I wanted to put out information on every pet insurance brand (that I know of), to provide a true overview of the many options available to pet owners.
All the information in this article was correct at the time of writing and may change over time. If you're considering this product, be sure to review the Product Disclosure Statement so that you understand any terms, conditions and exclusions.