Petmed pet insurance is the only provider which will issue new comprehensive policies for dogs and cats of any age, making it the only comprehensive pet insurance option in Australia for older dogs and cats.
Petmed has been operating since 2000 and claims to be the second longest running pet insurance company in Australia. Like many others, Petmed is issued by Hollard and is administered by PetSure, the two stalwart names in Australian pet insurance.
(Petmed is promoted by Marketing Services Pty Ltd.)
What we like about Petmed Pet Insurance
Petmed offers a larger range of options than most plans for vet bill coverage and annual benefit limits.  You can choose between 65% or 80% coverage of eligible vet bills, an annual cap choice of $5,000, $12,000 or $18,000 and a choice of no excess or an excess of $99.  Petmed's basic coverage offers a lower-cost option for pet insurance, providing a slim 65% coverage of vet bills and $5,000 annual benefit cap, but we note that a more standard level of coverage is only $6 – $11 more per month, which is generally less than a single trip to the vet.  (We also found that Petmed's top-tier plan, with an $18,000 annual benefit limit, can cost less than $3 per month more than the standard plan as well – but check to make sure this is true for you.)
Great news for owners of older pets – Petmed is the only pet insurance plan in Australia offering comprehensive coverage for dogs or cats over 9 years of age.  You can receive coverage for  65% of eligible vet bills, a choice of an annual cap of $5,000, $10,000 or $15,000 and a choice of an excess of $99 or $199.
You can take out routine care insurance for both younger and older pets. It has an annual cap of $80 and costs $5 per month.
A few things to consider
While there is no upper age limit on Petmed's senior plans, be sure to note that pre-existing conditions are excluded, so you won't have cover for any conditions that showed clinical signs before taking out the insurance.
Based on our comparison of Australian pet insurance premiums, Petmed is competitively priced, with its premium being below average. However do note premiums for its senior product are on the higher side. Insurance for many older dog breeds will cost you $50 or more per month. Also sub limits for older pets may be lower than for younger ones. Do make sure you get quotes for yourself to make sure that this is true for your particular situation, as prices may vary considerably based on several factors, including the breed and age of your dog or cat.
Petmed does occasionally offer a sign-up discount.
Petmed provides a free health report for your breed of dog or cat so you can gain an insight into their future health needs.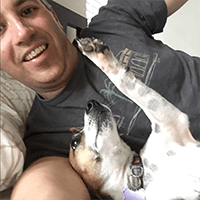 I'm Mitch, and I've spent hundreds of hours researching pet insurance, meeting with pet insurance executives, and getting the opinions of vets and pet owners. I wanted to put out information on every pet insurance brand (that I know of), to provide a true overview of the many options available to pet owners.
All the information in this article was correct at the time of writing and may change over time. If you're considering this product, be sure to review the Product Disclosure Statement so that you understand any terms, conditions and exclusions.