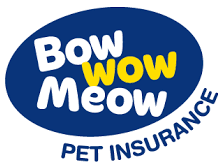 The company with the oh-so-cute name offers pet insurance plans for both dogs and cats, which can help you manage your pet's health care costs and provide peace of mind in case of severe injury or illness.  (Sorry bird, snake and pig owners – they can't help you, but perhaps a Chirp Hiss Oink insurance company will pop up someday!)  Coverage varies depending on the plan that is chosen, including medicine and drugs, surgery costs, accidental injuries, and some of the large plans even include hereditary conditions, ear/eye conditions, and so much more.
Like any insurance policy, it's important to understand what types of claims may not be covered.  Exclusions include pet pregnancy, elective procedures, food/diet, grooming, behavioural problems, and any pre-existing conditions that were already being treated before the pet insurance was purchased.
Submitting an insurance claim is simple.  You can either submit on-line at the Pet Portal on the Bow Wow Meow Pet Insurance website or simply print out the form and take it with you to the vet appointment. The Veterinarian will fill in the appropriate areas on the form so that you just need to mail it in the to claim centre. It should also be noted that all claims must be submitted and received within 90 days of the treatment date or it will not be processed.
There is also no limit to how many claim submissions that can be made in a policy year, as long as it is within the maximum coverage amount stated in the policy. The maximum coverage is the maximum amount that the insurance will cover for a policy year and that amount is dependent on the type of plan purchased.
Bow Wow Meow offers an Accident Plan, providing up to $8,000 per year in total benefits, while the Comprehensive and Major Medical Plans provide coverage limits of up to $8000 – $12,000. All plans cover 80% of all eligible vet expenses that are outlined in the corresponding plans.
Each plan has an excess amount that is deducted from the first eligible claim for each condition being treated. The amount varies depending on the plan (as seen below) and is charged per condition per policy year. The cost for each plan is dependent on the type and breed of the pet to be insured, but they do offer free quotes on their website so you can know what you're getting into before purchasing. The plans are designed for coverage for puppies or kittens as young as 8weeks, and they will not commence coverage for pets past their 9th birthday, except for the Accident Plan, which has no age limit. If you are a multi-pet household they do offer a discount of 10% off for any additional pet that you get insured.
Be sure to compare pet insurance polices before you buy, and review Bow Wow Meow's product disclosure statement.
All the information in this article was correct at the time of writing and may change over time. If you're considering this product, be sure to review the Product Disclosure Statement so that you understand any terms, conditions and exclusions.