Guide Dogs offers three insurance plans for puppies, dogs, kittens and cats: the Premium Care plan, the Comprehensive Care plan and the Basic Care plan. As the name suggests, Guide Dogs also offers insurance plans for working guide and assistance dogs.
Guide Dogs' policies are issued and underwritten by The Hollard Insurance Company and administered by PetSure.
What we like
You can insure dogs and cats over 9 years old for accidents

and

illnesses. Many other policies won't cover older pets for illnesses. This is available on the Basic Care plan.

The policies are easy to understand, with each level having a specific benefit limit and specific percentage of the treatment that will be covered. For example, the Premium Care plan covers you for up to $20,000 and will pay you 85% of every eligible vet bill.

Guide Dogs lets you choose between a $0 excess and a $50 excess ($0 and $100 on the Basic Care Plan), offering you the ability to limit your out-of-pocket expenses.

A portion of your premium goes to Guide Dogs Australia, which helps blind and low-vision Australians get the guide-dog assistance they need.

Guide Dogs pet insurance offers $1 million in third party liability cover for injuries or property damage caused by your dog (guide dogs only).

All plans will cover chronic or lingering illnesses or injuries for the long term, as long as the condition developed after you took out the policy and after all waiting periods were up (ie, as long as it wasn't a pre-existing condition).

You can visit any licenced vet in Australia.

All policies cover accidents.
A few things to consider
The price is a little on the higher end, but the value is there. In our recent

price survey of Australian pet insurance providers

, we found that Guide Dogs insurance offers a higher benefit limit, a higher percentage paid toward treatment and a lower excess than similarly priced plans.

The Basic Care plan is only available strictly dogs and cats over 9 years old. The other two plans are strictly for pets younger than that.

There is a lot to consider with the Guide Dogs' insurance plans. Summary information is provided on their website and it is presented in an easy-to-understand fashion. Be sure to review the product disclosure statement prior to purchasing, so that you understand the terms and restrictions on your benefits.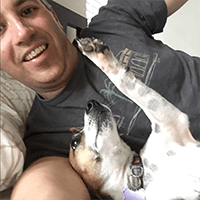 I'm Mitch, and I've spent hundreds of hours researching pet insurance, meeting with pet insurance executives, and getting the opinions of vets and pet owners. I wanted to put out information on every pet insurance brand (that I know of), to provide a true overview of the many options available to pet owners.
All the information in this article was correct at the time of writing and may change over time. If you're considering this product, be sure to review the Product Disclosure Statement so that you understand any terms, conditions and exclusions.