PROSURE pet insurance is underwritten by Hollard and administered by PetSure, the two dominant names in the pet insurance market. They insure puppies and dogs and kittens and cats.
What we like
PROSURE's standard illness and injury pet insurance plan offers a solid set of benefits, including coverage for 80% of eligible expenses with no excess.
The accident and illness plan offers a $12,500 annual benefit cap, amongst the highest of any pet insurance product. This should provide enough coverage for most pets in case of a life-threatening accident or illness.
They do offer a multi-pet discount of 10% and if you do not claim for any accidents or illnesses during the year you will receive a no claim bonus of $50.
Though you're unlikely to use them often, PROSURE does provide coverage (with restrictions) for your pet while traveling overseas and for emergency boarding if you are hospitalised for more than five consecutive days.
A few things to consider
PROSURE also offers a Platinum level of care that covers accident, illness and routine care with a total annual cap of $14,500. For routine treatments the plan has a maximum yearly benefit of $150.
You will have a long two-year wait before dental illness coverage kicks in.
On our pet insurance comparison survey, PROSURE's premium was close to the average, but do check for yourself to make sure that this is true for your particular situation, as prices may vary considerably based on several factors, including the age and breed of your dog or cat.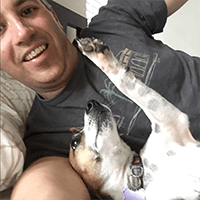 I'm Mitch, and I've spent hundreds of hours researching pet insurance, meeting with pet insurance executives, and getting the opinions of vets and pet owners. I wanted to put out information on every pet insurance brand (that I know of), to provide a true overview of the many options available to pet owners.
All the information in this article was correct at the time of writing and may change over time. If you're considering this product, be sure to review the Product Disclosure Statement so that you understand any terms, conditions and exclusions.