Suncorp has been one of Australia's leading insurance companies for over 100 years. It is a Top 20 ASX-listed company, with nearly $100 billion in assets, so it would seem like a great place to turn to for pet insurance.
However, while Suncorp offers a wide range of insurance products – from home insurance to car insurance, life insurance to health insurance – it is yet to introduce pet insurance to its line-up.
Compare a range of other pet insurances
Protect Your Pet With Suncorp
So, is there a way to protect your pet with Suncorp?
Actually, there is. If you take out home and contents or contents-only insurance with Suncorp, you have to option to add on an extra feature that protects dogs and cats in the event of injury. Here's how that feature works.
If a pet dog or cat shown on your certificate of insurance is injured in an incident, Suncorp will pay for necessary veterinary treatment (up to $2,000 per accident).
To benefit from this cover, you will pay extra on your home and contents premium, and should you need to make a claim, you will have to stump up an excess specific to this add-on.
What's not covered?
Treatment for:
any illness,
harm caused by something the animal has eaten or any other digestive system ailment,
coronary failure or coronary thrombosis (e.g. a heart attack),
veterinary expenses incurred after your pet dies (e.g. autopsy or disposal costs),
routine, elective or preventative veterinary treatment such as vaccinations, de-sexing or heart worm testing,
any pre-existing condition or injury that existed before you took out this cover,
insect bites or infestation by insects such as heart worm, fleas or mites (treatment for tick bites and tick poisoning is covered),
injury caused by or arising from a business activity such as security, racing, farming or grazing, but not including breeding or showing.
Compare Pet Insurance
Don't need or don't want home and contents insurance from Suncorp? If all you're searching for is pet insurance, jump on our pet insurance comparison page for the lowdown on pet insurance from more than 25 other brands.
And if Suncorp ever does decide to launch a pet insurance product? We'll be sure to let you know.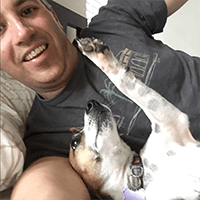 I'm Mitch, and I've spent hundreds of hours researching pet insurance, meeting with pet insurance executives, and getting the opinions of vets and pet owners. I wanted to put out information on every pet insurance brand (that I know of), to provide a true overview of the many options available to pet owners.
All the information in this article was correct at the time of writing and may change over time. If you're considering this product, be sure to review the Product Disclosure Statement so that you understand any terms, conditions and exclusions.